We pride ourselves in our Dune Crossovers
When quality counts we got you! Honestly, there is no job too big for us at Florida Home & Dock Life and we can handle it all. In fact, we handle all phases of the permitting process for you.
Our Dune Crossovers are constructed using the highest quality materials.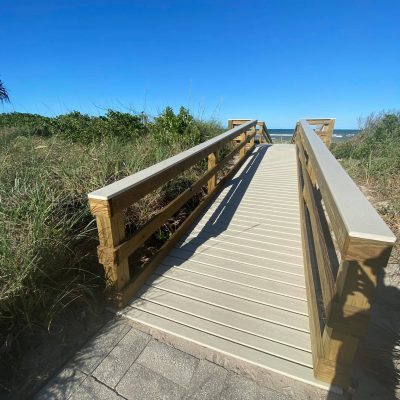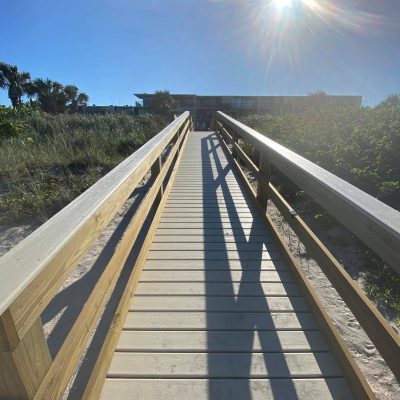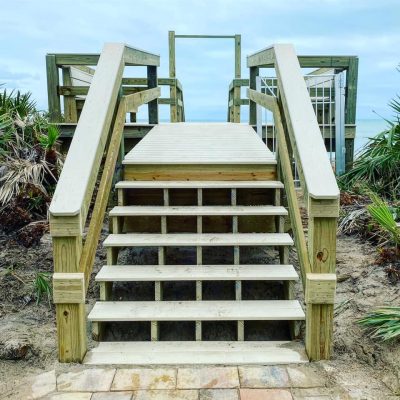 We offer a variety of hardwood, vinyl, and composite materials for a virtually maintenance-free structure.
If you're interested in hardwoods, we offer "Ipe", "Cumaru" and "Garapa Gold" materials for a truly unique, beautiful, and long-lasting structure.
All of our fasteners are 316-grade stainless steel ring-shank nails, screws, and bolts. (Hot dipped galvanized nails and bolts are also available.)
Made of HDPE reinforced with fiberglass, WearDeck boasts the highest live load rating in the industry. Our boards are weatherproof, waterproof, and heat-reflective. Rated for ground contact and underwater installation, WearDeck will be the last deck board you'll ever need.
Weardeck reinforces High-Density Polyethylene (HDPE) with fiberglass to produce decking with unparalleled strength and durability. Their Limited Lifetime Warranty and proprietary mixture of additives ensure that you'll enjoy your WearDeck for generations to come.
Our splinter-free, heat-reflective decking provides permanent static protection and an embossed woodgrain surface for excellent slip-resistance. WearDeck comes in two new Barefoot colors designed to keep feet cool and comfortable on the hottest days.
No more burdensome staining, sealing, painting, or sanding. WearDeck cleans up easily with soap and water. Unlike other deck boards, WearDeck resists stains from substances like sunscreen and redwine.
White
Barefoot Grey
Cool Grey
Saddle
Weatherwood
Sand
Barefoot Sand
Cedar