Your boat is an important part of your life - Keep it safe.
Keep it safe and easily accessible by adding a boathouse to your waterfront property. A boathouse offers secure long-term storage for your boat. We are more than happy to work with you to create a custom boat house. Because we value customer service, we will work with you every step of the way. You may suspect that building a custom boat house may exceed your budget, we guarantee that our rates are affordable, so attaining the boat house you've always wanted can become a reality. Contact us today for a quote on your boat house project!
We offer a variety of hardwood, vinyl, and composite materials for a virtually maintenance-free structure.
If you're interested in hardwoods, we offer "Ipe", "Cumaru" and "Garapa Gold" materials for a truly unique, beautiful, and long-lasting structure.
All of our fasteners are 316-grade stainless steel ring-shank nails, screws, and bolts. (Hot dipped galvanized nails and bolts are also available.)
We teamed up with the best boat lift manufacturer in the State, Deco boat lifts.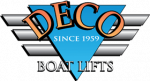 DECO Boat Lifts is one of the world's leading manufacturers of high-performance boat lift systems, offering a broad array of products made with impeccable craftsmanship from durable materials. They manufacture three standard lines of boat lifts – the entry-level Maxi, signature DECO and top-of-the-line Concept CRS – which allow us to offer products to suit the budget and specific needs of virtually any boater. Their product lines include lifts in elevator, beamless, traditional four- eight piling beam, and box-beam configurations, so you can count on finding an option that's well suited to your dock space and your watercraft. 
Whether you're lifting a 1,500 lb. Jet Ski or a 300,000 lb. Mega-Yacht, Neptune manufactures an aluminum lift that's right for your needs. At Neptune Boat Lifts their principle goals are to design, manufacture and implement the highest quality and most reliable boat lift in the industry. We will maintain a fair, competitive price while never sacrificing exemplary customer service.
Our extensive knowledge and history of boating allows us to not only design but build you the lift your vessel deserves!  
Made of HDPE reinforced with fiberglass, WearDeck boasts the highest live load rating in the industry. Our boards are weatherproof, waterproof, and heat-reflective. Rated for ground contact and underwater installation, WearDeck will be the last deck board you'll ever need.
Weardeck reinforces High-Density Polyethylene (HDPE) with fiberglass to produce decking with unparalleled strength and durability. Their Limited Lifetime Warranty and proprietary mixture of additives ensure that you'll enjoy your WearDeck for generations to come.
Our splinter-free, heat-reflective decking provides permanent static protection and an embossed woodgrain surface for excellent slip-resistance. WearDeck comes in two new Barefoot colors designed to keep feet cool and comfortable on the hottest days.
No more burdensome staining, sealing, painting, or sanding. WearDeck cleans up easily with soap and water. Unlike other deck boards, WearDeck resists stains from substances like sunscreen and redwine.
White
Barefoot Grey
Cool Grey
Saddle
Weatherwood
Sand
Barefoot Sand
Cedar